Interview with Christian Colombo
FICEP Gazzada Schianno Varese Italy
"At EMO MILANO 2021, with an eye to sustainable production". 
Mr Colombo, what does EMO MILANO represent for FICEP and what do you expect from the 2021 edition?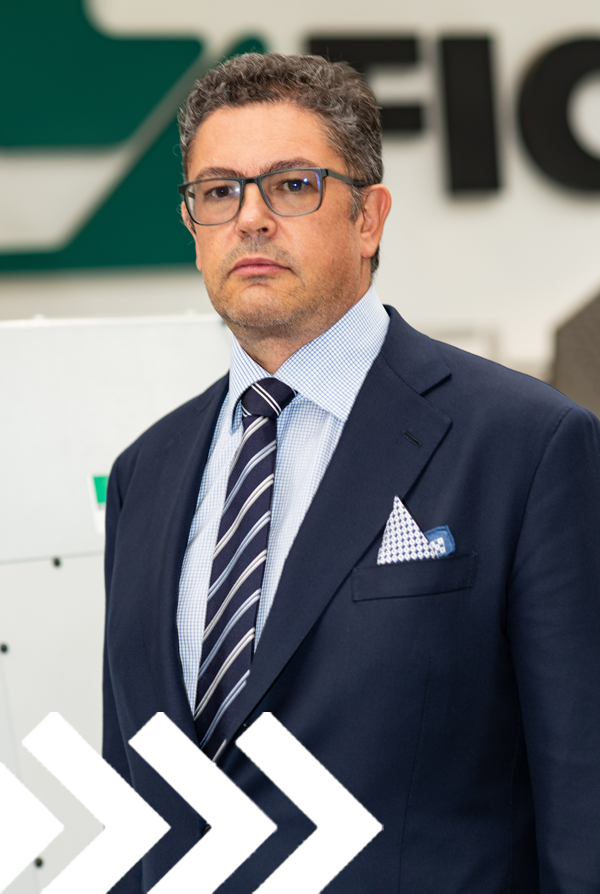 EMO MILANO is a historical exhibition for us and it is the event of reference worldwide for both our production divisions, i.e. Forging and Structural Construction. The edition of 2021 will take place in an ideal period for the companies of the sector. Vaccines, market recovery and postponement of many trade shows make EMO MILANO 2021 an excellent occasion to present the latest innovations again in person and relaunch the exhibition activity. In particular, the postponement of LAMIERA until 2022 – another important trade show of reference for us –makes our participation in October even more crucial and essential for our business activity.
Does this market recovery make you optimistic about the present and future trends of the sector?
Yes, it does. Our data on the rise and a general upswing of the market make us very optimistic. The year 2021 marks a restart: the requests of our customers have been growing. Therefore, in the future, we expect a continuously improving scenario for a concrete relaunch of our business activity.
Which are the most dynamic markets in this moment?
Lately, we have had a considerable increase in the requests for quotations from users of the United States, Canada, Europe, China, Taiwan and Vietnam. These are surely the most active and recovering countries in this first part of the year. Even in New Zealand, Australia and Japan, demand is increasing. The rest of the world seems to give signs for a business upturn after the summer.
What are the technological trends required by the market that mostly affect the production of the sector and, in particular, your product offering?
The design of our products is based mainly on the demand for a more and more advanced automation and increasingly integrated technologies. The new technological solutions are in line with Industry 4.0 and conceived for a full automation of machine tending. In combination with automation, there is an attention to the integration of different technologies in the same production unit – such as, for example, drilling, milling, plasma, oxy cutting, etc. – with machine-tending applications for automated handling, both of raw material and finished parts. Particular interest in our products is shown by customers involved in the construction of products for renewable energy generation, such as manufacturers of wind towers, support structures for solar heating systems or photovoltaic panels. These trends make up the basis for our product offering and at EMO MILANO 2021 we will show it.
With which products will you show it in particular? Could you give us a preview of what you will exhibit at the trade show and how you will present your company?
With regard to our Forging Division, we will feature our most innovative 4.0 products, which will offer a complete overview of our solutions regarding automation, remote management of programs, plant monitoring, connectivity and multitasking processing. We have not yet definitively decided which models we will exhibit, but we will surely display machines, such as our presses, sheet metal cutting machines or sawing machines, with machine-tending robots. With regard to our Mechanical Structural Construction Division, we will show solutions in line with the innovations in the energy sector and wind power segment. We will exhibit sheet metal cutting and sheet metal milling machines using integrated technologies and solutions. In this way, we will be able to illustrate the considerable progress made by the sheet metal industry towards these innovations.
We are an international company for which continuous innovation is the hallmark of its product offering. We will focus on this once again, also at EMO MILANO 2021 and we are confident that, with the regression of the pandemic and the progress of the vaccination campaign, we will collect interesting contacts not only from Italy.