TECNO EDM
TECNO EDM: quality, innovation and sustainability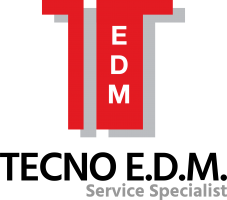 TECNO EDM has been on the market since 1992 and deals the production of graphite and copper electrodes, addressing the offer to multiple sectors: mold makers, energy and aeronautics. The ISO 9001:2008 certifications place the company at the forefront of the sector, able to offer customers an innovative service model in the field of EDM processes.
Our company has twelve machining centers, five of which have 5 axes, two robotic islands, six wire erosion machines, three adjustments and a testing department equipped with optical and contact measuring machines. TECNO EDM is able to create electrodes capable to satisfy every customer's request; from large pieces to extremely thin ribs guaranteeing the relative dimensional certifications.
TECNO EDM has always been sensitive to environmental issues and its sustainable commitment consists in the realization of two projects:
– "Perpetua"; the only pencil produced in Italy, the only one in the world ever made with graphite powder recovered from industrial production processes. Perpetua wins the prize for best eco-sustainable invention at the 2013 SETTEGREEN AWARDS of Corriere della sera and obtains international recognition.
The success of this pencil has led it to be present in several countries in Europe and from 2017 also in the USA, Canada, Australia and Japan.
– "Graphi-Tee" Wrad; in 2017 was born the "Graphi-Tee" t-shirt, dyed with recycled graphite powder.
"Graphi-Tee" is awarded with the "Red Dot Design Award" and in 2018 the poject was a finalist at the Green Carpet Award of the Camera Nazionale della Moda.
Nowadays, thanks to these projects, TECNO EDM has managed to reduce the impact on the environment, disposing of about 8 tons of graphite powder, which otherwise would have been destined for landfill.