SIC MARKING GROUP
E-TOUCH: the lightest and most compact portable marker on the market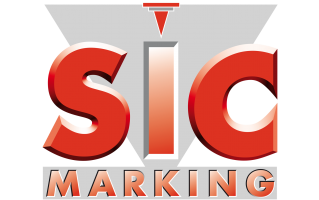 With a marking window of 60 x 25 mm, the e-touch handheld marker enables the identification of components by using Dot Peen marking technology. Marking can be text, logo, 2D datamatrix and QR code).
AN OPTIMISED TOUCH SCREEN
The e-touch portable marker features a user-friendly color touch screen, which can be programmed with 2 hands exactly like a smartphone. The SEE&MARK function, a 1:1 window, allows for an exact preview of the marking.
EVER LIGHTER AND MORE COMPACT
Weighing less than 2 kg and with a small footprint of 220 x 210 x 125mm, e-touch is the most compact and lightest Dot Peen marker on the market. It is extremely robust and stable thanks to its internal metal structure.
A REVOLUTIONARY INTERCHANGEABLE FRONT PLATE SYSTEM
The e-touch has 3 front plates that allow it to adapt to the numerous marking configurations: marking flat, cylindrical parts, small components, cavities or hard-to-reach surfaces.
Time taken to change and fix the magnetic mask: 3 sec!